Magnetic Wooden Blocks Itty Bitty City Toys Make New Connections Between Play and Learning
Itty Bitty learners develop socially, physically, intellectually, and creatively by playing with blocks. The magnets in our Magnetic Wooden Blocks enable young minds to think outside the box by adding a new level of creativity and exploration. These unique wooden blocks have built-in magnetic properties that are not limited by balance or the north/south polarity of conventional magnets (patent pending). The magnets are secured within the wood so they will not become dislodged, even during spirited group play sessions!  Our blocks are strong enough to hold the most creative designs, but they won't pinch your Itty Bitty's fingers. The Magnetic Wooden Blocks truly embraces Itty Bitty City's Imagine-Play-Learn philosophy.
Save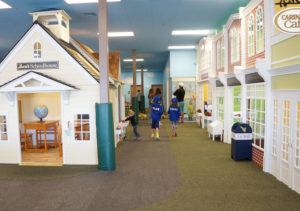 Save
Dr. Toy's 2018 Best Picks Award Winner!
These Magnetic Wooden Blocks by Itty Bitty City were selected as one of Dr. Toy's Best 10 Gifts in 2018! The Dr. Toy Best Picks Children's Products Award Program® was developed by noted play and child development authority, Stevanne Auerbach, PhD, (a.ka. Dr. Toy) as a service to consumers who desire to purchase safe, affordable, educationally oriented, stimulating new smart toys and play products for children. The Best Picks Award began in 1992 by Dr. Toy in cooperation with the national publication, Early Childhood News, to recognize outstanding educational play products that deserve consideration and use at home and in school.
| | |
| --- | --- |
| STEAM EDUCATIONAL CONSTRUCTION TOY | STEAM toys encourage children to develop skills in the core disciplines of Science, Technology, Engineering, the Arts and Mathematics. These Magnetic Wooden Blocks are an open-ended educational building toy that promotes critical thinking, problem solving and logic at an early age. |
| MONTESSORI TOY FOR TODDLERS | A Montessori toy is typically made from a natural material that can be held, touched and manipulated by a child 's experimentation. These Magnetic Wooden Blocks are a wooden educational building toy that are made from natural wood, contains no plastic and are painted with lead-free non-toxic paint. |
| SAFETY | These blocks have been tested by an independent third party (UL – Underwriters Laboratories) for safety.  The blocks have passed the mechanical hazard (ASTM F963) and choking hazard tests.  The paint used on the blocks has passed the test for lead, soluble migrated elements, and phthalates.  We understand children's building blocks can sometimes end up in a child's mouth so we wanted to confirm through independent testing that our blocks are completely safe. |
30 Piece Set
Our 30 piece set of magnetic blocks gives Itty Bitties all the tools they need to let their imaginations explore! Packed with cubes, triangles, and quarter circle shapes, this set builds great structures, patterns, and even creative creatures, as five of the blocks have eyes. Each block is crafted from wood with magnets built on the inside, so our blocks have all the warmth and heft of a wooden block with the added gravity-defying science of magnets, and are safe for everyone to enjoy.
6 Piece Set
The six piece set of magnetic blocks is a perfect start for the youngest Itty Bitties, or for on-the-go fun. One side of the blocks can be assembled to make a cat face, and the opposite side makes a dog. Of course, the blocks can be mixed into many other unique creations as well!  Just as with our 30 block set, each block is crafted from wood with magnets built on the inside, so our blocks have all the warmth and heft of a wooden block with the added gravity-defying science of magnets!
Subscribe here to receive an Amazon coupon code for 20% off of your first purchase!
(We send the email within five minutes - so check your Spam folder, too!)